On Sunday September 20th, a small team from Dallas arrived, in San Salvador to kick start our first international medical mission.  The team traveled two hours southeast together to the Medical Centre.   Alongside, Dr. Stephen Patrick and Dr. Jorge Blanco the team spent the next five days seeing patients at the David V. King Medical Centre.  The team stayed on site and were one our first guests to experience our newly finished cafeteria.  Accommodations and meals were served to our group, a new feature to keep volunteers on premises.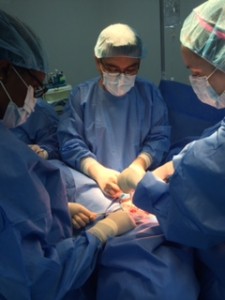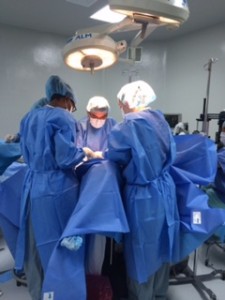 Photos above of surgeries performed September 22, 2015 at CMDVK
                                   Recovery Room at Centro Medico David V. King on September 22, 2015
We are proud of this accomplishment and grateful to Dr. Patrick, Dr. Lawani & Dr. Brooks for their commitment to Medical Mission International and the people of Jucuapa.  The team saw over 320 patients and performed 8 surgeries while on the mission.  We anticipate their return in 2017!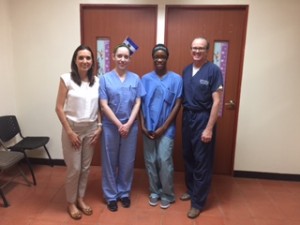 Photo of Beatrice Quinonez, Dr. Phyllis Lawani, Dr. Mia Brooks and Dr. Stephen Patrick
For more information on 2016 Missions please contact maeve@dkellc.com